Blue Moon Designs developed the first HELISADDLE over 15 years ago. We use a patented process in which the highest quality 94-durameter polyurethane available is chemically bonded to heavy-duty stainless steel frames. This labor intensive coating process requires sandblasting, chemical etching, and 24 hours of temperature controlled 'baking' after the liquid polyurethane is poured into molds: providing an unmatched level of durability and cushioning for your aircraft crosstubes. 5 models are available to best suit your aircraft configuration.
Yes – it is true: Brand X is now offering polymer-plastic coated saddles at rock-bottom pricing. Decide for yourself if 'going cheap' is a good investment.
A set of four high quality Heli-Saddles can be purchased for $1000.
Heli-Saddle Options

New frame designs are now available in Stainless Steel. Contact us for information and price quotes.
Click here for more pictures
Do you need to upgrade to the Heli-Saddle™?
| | |
| --- | --- |
| The original saddles provided by Tug-A-Lug and Heliporter® had rubber pads glued on to them. These would peel off resulting in damage to the helicopter cross tube. | |
| Even the more recent spray-on coatings fail, allowing steel to contact aluminum. | |
| Flight & Maintenance Departments have tried a variety of creative coverings, ranging from felt to leather to wood. | |
| There's a better solution! The Heli-Saddle™ | |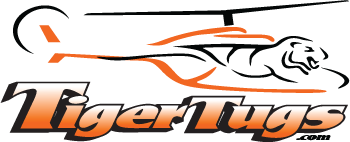 Heli-Saddles™ are standard equipment on the new TigerTugs!
Visit their website

We have a variety of replacement designs to interface with any tug and
helicopter combination.

Off-set mounting holes can provide additional lateral clearance with crosstube straps, landing lights, etc.
Severe damage can occur when your transport tugs steel lifting points gouge the aluminum cross tubes, or when the aircraft inadvertently departs the tug while in transit. The result is high repair costs and lost revenue.
Unlike original equipment where a non-permanent coating is glued or sprayed onto a steel frame, the HELI-SADDLE™ uses a patented process in which a coating of 94-durometer polyurethane is CHEMICALLY BONDED to the steel. The urethane coating exhibits the following impressive characteristics:
Provides a non-marring contact surface that will not scratch or gouge cross tubes.
Impervious to 5606 hydraulic fluid, jet fuel, av-gas, engine oils.
Extremely resistant to ultraviolet degradation.
Chemically Bonded to the steel frame.


Examples of tug and helicopter combinations

Heliporter® and an EC120

Heliporter® and a Bell 412

Tug-a-Lug and a Bell 222

Tug-A-Lug and a
EC145 / UH-72