Tough & Dependable Helicopter Tools & Equipment
Blue Moon Designs was founded by helicopter technicians whose hands-on experience helped them design tools and ground support equipment that meet the real-world demands of the helicopter maintenance environment. We offer a unique assortment of helicopter tooling and ground support products
as well as the ability to create custom designs quickly and affordably.

Custom Projects
Designed and built for Air Life of Oregon, Their fleet of Pilatus PC-12s were outfitted with cargo racks to help keep medical gear organized.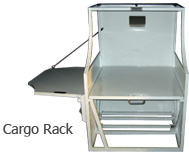 | | |
| --- | --- |
| We are proud to have provided helicopter tools & equipment to these and other fine companies and services. | |
| | |
Featuring the


Our saddle upgrades for the Tug-a-Lug and Heliporter® helicopter tugs help protect your aircraft from ground transport damage.
Unlike original equipment, where a non-permanent coating is glued or sprayed onto a steel frame, the Heli-Saddle™ uses a patented process in which a layer of 90 durometer polyurethane is chemically bonded to the steel.
Heli-Saddles are a cost-effective way to upgrade you helicopter ground transport equipment!
For our government customers...
we are a small business and,
SAM Registered as:
Blue Moon Designs
DUNS: 093594138
CAGE: 74XB0
NAICS: 332999
Recent sales to:
Oregon and Hawaii National Guard Units
Help a Vet
Limited editions of art work by Kenneth L Neubauer, 1st Infantry Division, Vietnam 67-68. All proceeds will benefit the Vietnam Veterans Association.
See artwork & place orders